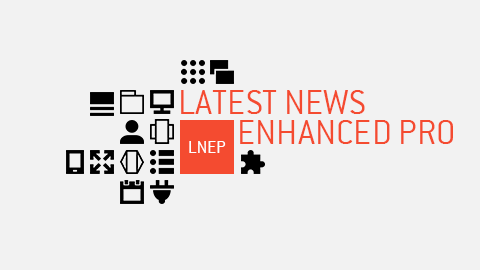 Latest News Enhanced Pro is a full-blown component with blog views and an all-in-one news/articles module presenting the latest, featured, popular, future (even pending), related or random article snippets in a consistent professional fashion. It has tons of features and is extremely flexible. It is highly configurable and expandable but remains easy to use.
Downloads
Please make sure you read the following explanations before accessing the download links you can find at the bottom of this page.
Joomla 3.8+
Version 4.11
Joomla 3.1+
Joomla 3.7 ready
Version 4.8
Translations















Help the community, translate this extension!
Features
Custom/extra fields support

Multiple layout configurations

Responsive and touch-ready animations

High pixel ratio screen support
powerful selection of articles/K2, including categories, keywords, tags, author and date range
preview unauthorized items, show related items (through keywords or tags matching),
order items multiple ways (by date, popularity, title, console order, randomly, by category, by author),
extend the module with additional data sources (available: news feeds),
layout items with article's images, media custom field, SYW Icon custom field, K2 image extra field, author's picture, calendar representation, video, title, text introduction and detailed information,
link items, url custom field or K2 link extra field, add 'read more' buttons (Bootstrap compatible),
style items in responsive-ready layout designs,
create high-resolution thumbnails for devices with high pixel ratio (like retina screens),
show items to targeted user groups with highly detailed and overridable information (author, hits, ratings, categories, date, keywords, tags, links, social media sharing, comments count, K2 extra fields, Joomla 3.7 custom fields...),
add jQuery pagination and/or touch-ready animations,
cache thumbnails, on-the-fly stylesheets and scripts for faster loading,
add module instances inside articles, after a set number of paragraphs,
...
Hot
Menu item blog views
configure leading items differently from the remaining items,
use efficient Joomla-style pagination or infinite scrolling,
index items by categories and/or tags.
Additional features
Joomla! content plugins support,
Bootstrap 2, 3 and 4 compatible,
100% CSS-based layouts,
SEO-ready code,
friendly SEF URLs,
support for IE8+.
Parameters
Please check the online documentation.
Example 1 - module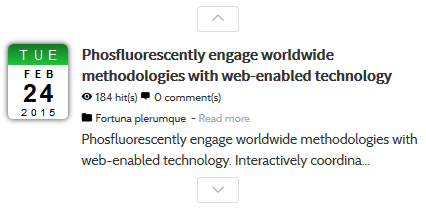 Example 2 - module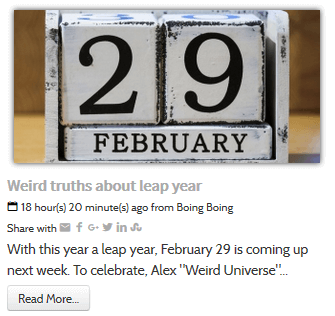 Example 3 - blog view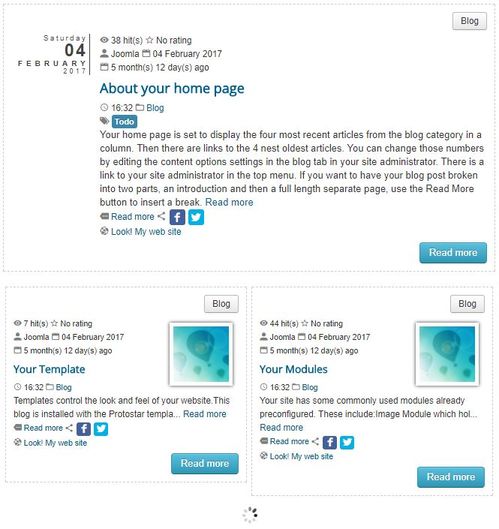 Demonstration
Check the demo site for some live examples.
How does the pro version compare to the free version?
Try free
Try Latest News Enhanced for free and get an idea of what Latest News Enhanced Pro can do for you!
Testimonial

I have been using Latest News Enhanced for a few years now. We use it at a State University for most of our department websites. We use it to display news and our people pages. This is the best tool when you want a category blog view, but you want control over what is displayed. We use it to display custom fields, include links on images, links to a custom field such as an external website instead of the article, and even changing the title to display a custom field (instead of the set title). This has given us a tremendous amount of flexibility for our websites. We also use it as a module on home / landing pages to display just a few articles at a time, in a horizontal and scrolling format.
Thank you so much for building such an intuitive tool! I highly recommend it!
Joomla! Extensions Directory
If you have found this module useful to you, please post a review       at the Joomla! Extensions Directory.
Additional Downloads
Buy this extension through PayPal
PERSONAL
ONE YEAR
$29.95
1 production install
unlimited test installs
DEVELOPER
ONE YEAR
$49.95
unlimited production installs
unlimited test installs
PRO
BUNDLE
all extensions, unlimited
unlimited production installs
unlimited test installs
forum & email free & pro
You must be logged in, have a current and valid license to be able to download this extension.