You can use the download id associated with your extension to avoid any manual download when you are notified of an update. Once the download id is setup on your site, the downloads occur in the Joomla updater, as any other free extension. Follow these steps to ease your updates!
Joomla 3 and 4
Step 1 Go to My purchased licenses once logged in on the site. Copy the download id for the license associated with your extension.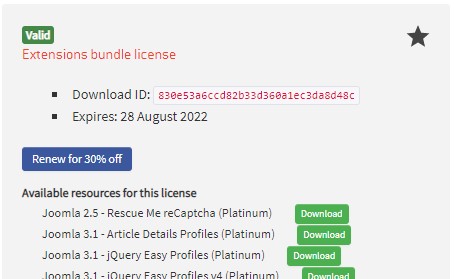 Step 2 Go to your site (it needs to run Joomla 3.2.3 minimum).
Step 3 In the administrator console, go to Extensions -> Plugins. Select the Installer type.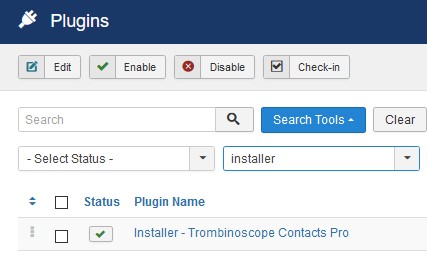 Step 4 Paste the download id in the allocated field in the plugin associated with your extension.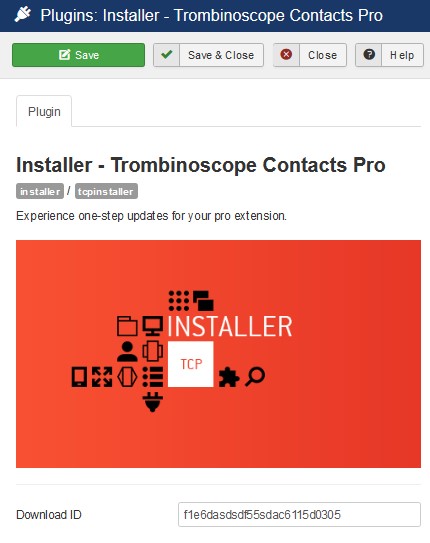 From now on, enjoy easy updates!
If you purchased a bundle license, use the same download id for all installers. Currently, you need to enter the download id in every installer plugin.
If your license expires before you renew it, the download id becomes obsolete, and you will get a new one once you purchase the license again.
Joomla 4 only
The extensions are progressively moving over to allowing the download id to be added to the update sites. It will replace the previous method over time; it is an easier way to manage your license download id.
If an update is ready to be installed for your 'favorite' extension, and that the extension supports this new functionality, you will be greeted with a new button 'The download key is missing' in the 'Extensions' -> 'Update' page. Click on the button to enter the download key (or id).

You will get a slightly identical message on the Update sites page, in which you can enter the download id for the extension at any time.

When you enter the update site in edition, you can add the download id that has been provided to you.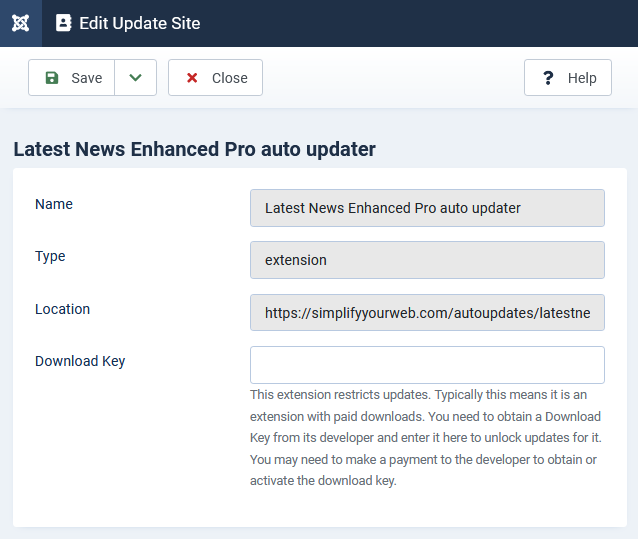 Once done, the download key will be visible on the page. From now on, all updates will be seamless, as long as you keep the license for the extension active.