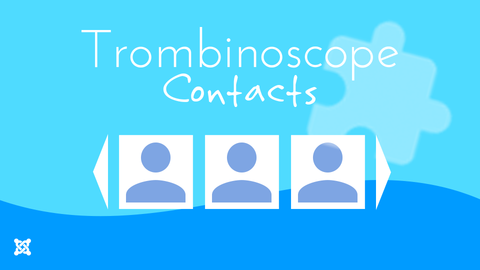 Trombinoscope Contacts (previously known as Trombinoscope ) is a module that shows a list of Joomla! contacts in a grid layout.
Downloads
Please read the following before heading to the download links available at the bottom of this page.
Joomla 3.1+
Version 2.8
Translations














Get involved and help translate this module!
Create an account at Transifex and join the OpenTranslators hub.
Find instructions here.
Features
show contacts from categories, sub-categories,
show a specific contact, related contacts (through keywords or tags) or yet contacts related to ANY content (through tags),
show the contact information of the logged user,
choose portrait or landscape layouts (picture on top or on the side of the contact information),
set size restrictions and the cards will automatically fit responsive pages,
format the name, order contacts in multiple ways,
show detailed contact information with labels or icons,
set access levels so that the information shown targets specific user groups,
format address information and link it with Google map,
open the contact in a Joomla standard view or in a popup,
add hover effects on the picture,
let the module crop, resize and filter contact pictures,
create high resolution thumbnails for crisp display on high pixel ratio screens (like Retina displays),
animate the grid of cards with a built-in carousel,
choose the proper look for your cards by selecting one of the available themes,
fine tune the theme with a multitude of options and CSS,
download more themes as they become available,
cache the settings and remove white spaces from the HTML output once the module instances are ready for primetime to speed up server performance and page loading,
...
Parameters
Find detailed information about parameter availability and explanations in the documentation.
Examples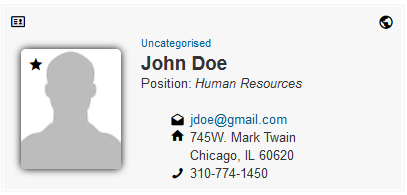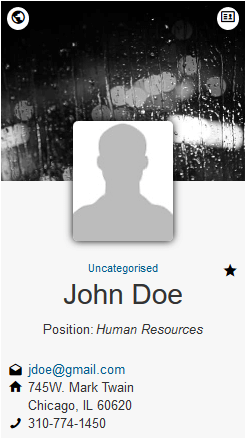 Demonstration site
Check out live examples on the demo site.
Commercial version
Buy the enhanced version Trombinoscope Contacts Pro to add views, fields, front editing and extend the Joomla! Contacts core component multiple ways! There is no loss of configuration when upgrading to the commercial version since Trombinoscope Contacts is integrated into the pro component.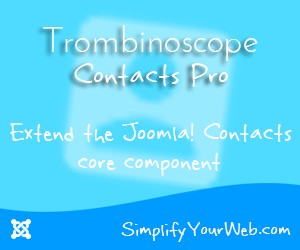 Discover Trombinoscope Contacts Pro
Comparison chart
Want to see what you are missing from the pro version? Check the comparison chart. The modules in the free and commercial versions are identical, but the free version is limited by the missing elements packaged in the full-blown version.
Joomla! Extensions Directory
If you have found this module useful to you, please do not hesitate to post a review       at the Joomla! Extensions Directory.
Additional downloads
Download free
Add support through PayPal
The following version is not supported under Joomla! v3.5 and over
.
For support under Joomla! v3.5 and over, please download the latest version of Trombinoscope Contacts.
Check the documentation
 for information on how to migrate your outdated version. That migration has to be tested before going 'live'.