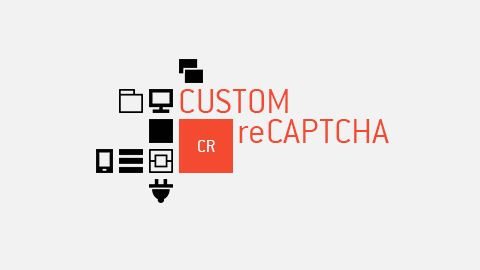 Custom reCaptcha is a plugin that gives you control over the look of Google's reCaptcha. It can replace the standard reCaptcha plugin packaged with Joomla! and adds solutions to make any version of the reCaptcha widget responsive.
Introduction
reCaptcha from Google is a 'one-size-fits-all-designs' widget that does not offer many possible styles. Until now it fit my projects but once I started working on responsive templates, the size of the default reCaptcha themes started being in the way, especially for mobile designs.
The purpose of this simple plugin is to give you access to the raw widget (version 1) and allow you to perform your own skinning. Hard core 'stylers' and developers alike, go crazy and make it beautiful. Do not hesitate to show off your designs in the forum.
Version 2 of the Google widget is not skin-nable but the plugin attempts to render it responsive (it may not fully work in some templates).
Translations












Help the community, translate this extension!
Downloads
Please find the download links at the bottom of this page.
Features
choose version 1, version 2 (no captcha reCaptcha) or the invisible widget,
use test mode to try reCaptcha without getting domain keys (test keys are used),
override version 1 templates (choice of 3 templates to start with),
force challenges in version 2,
add Google's legal info in place for the invisible flavor of the widget,
control CSS styles,
support for multiple reCaptchas on a same page,
make any version responsive (version 2 adopts a CSS3 transformations trick to fit the widget, challenges included),
support for SSL and RTL pages,
adds noscript tags for users that have disabled scripts in their browser or have a browser that doesn't support javascript,
Joomla 3.9 with privacy tools ready.
How is the plugin different from the core Joomla captchas?
| Feature  | Custom reCaptcha | Joomla reCaptcha |
| --- | --- | --- |
| responsive | Yes | No |
| noscript fallback | Yes | No |
| test mode | Yes | No |
| improved language support | Yes | No |
| additional styling | Yes | No |
| force audio or image challenge | Yes | No |
| Google legal link | Yes | No |
| defer Google API calls | Yes | No |
Google has turned off reCAPTCHA v1 on March 31, 2018. Any call to the v1 API no longer works.
Parameters
Please check the online documentation.
Demonstration site
Check the demo site for a live example.
Joomla! Extensions Directory
If you have found this plugin useful to you, please post a review       at the Joomla! Extensions Directory.
Download free
Add support through PayPal
Rescue Me reCaptcha is a Google reCaptcha v2 plugin specifically created to work with Joomla! 2.5. It is meant to provide owners of Joomla's outdated sites a solution that will extend the use of the Google reCaptcha v1 that is supposed to be shut down on March, 31 2018.