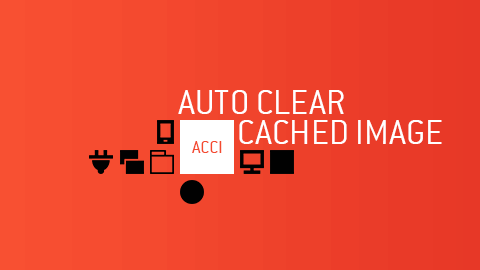 Eliminate the need to reset the cache for all images used in Simplify Your Web extensions every time you update content that is used by them.

Auto clear cached image is a set once and forget solution that will keep all your web pages up-to-date no matter who updates them (perfect for organisations that have many content editors).

This plugin is a must-have if you use:
Latest News Enhanced
Latest News Enhanced Pro
Trombinoscope Contacts
Trombinoscope Contacts Pro
Weblink Logos
Weblink Logos Pro
Downloads
Please make sure you read the following explanations before accessing the download links you can find at the bottom of this page.
Joomla 3.1-3.10
Joomla 4.0
Version 1.4
Translations









Help the community, translate this extension!
How it works
When enabled, the plugin is called every time an article, a K2 item, a contact or a weblink is about to be saved (in the administrator console or the public side of your site). It has no effect on article, K2 item, contact or weblink creation.

The category of the item is compared to the categories selected in the plugin. In the event that comparison is successful, the image file names containing the item id are selected then deleted.

The plugin looks for those files in the /cache and /images/thumbnails directories (the /tmp directory is not supported).
Once a visitor accesses a page containing an instance of the associated extension (or a browser refresh has been initiated), the image associated with the item is re-created on-the-fly.
Benefits
no need to reset/rebuild the whole image cache every time an article, contact or weblink has been modified,
no need to manually delete the cached image(s) that are associated with an item,
automatically forces an image refresh in all instances of the extension containing the item,
no need to access the extension instances in the backend for a refresh of their content.
Parameters
Verbose
The verbose option gives feedback and ensures the plugin is properly setup. Once the plugin configured to your liking, you can set it to 'no' to keep the deletion of images transparent to the content editors.

Categories
Categories are set to 'None' by default. The plugin will ignore the item types (articles, K2 items, contacts and weblinks) that have categories set to that default. You can set categories to 'All' or limit the categories to the ones that are used by the associated extensions.

For instance, if you are using the Latest News Enhanced module just to show articles from a 'blog' category, select the same category in the plugin.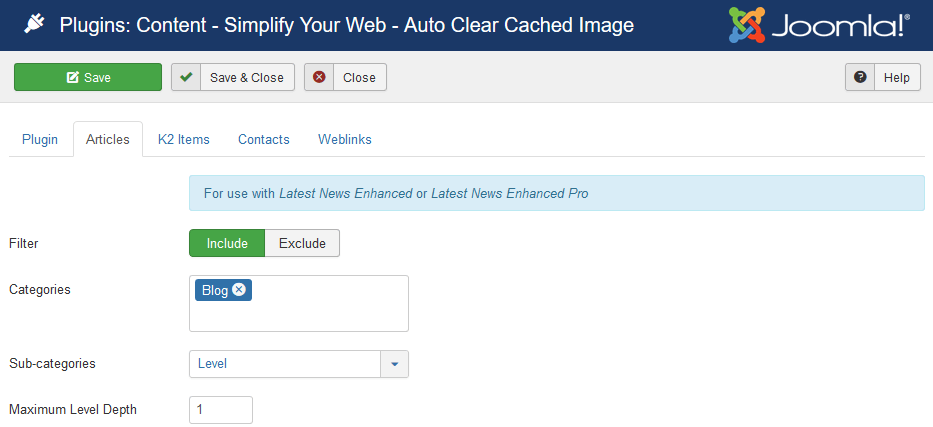 Remarks
The plugin eliminates images even if the modifications to the article, K2 item, contact or weblink are only textual.
Beware that modifications may not be reflected right away if the web pages are cached.