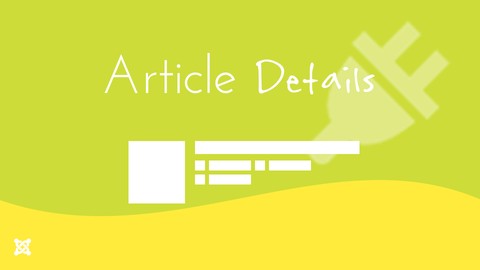 Override article information details and show them the way YOU want. This plugin is the best complement to the Latest News Enhanced module versions for a uniform article representation.
Downloads
Please make sure you read the following explanations before accessing the download links you can find at the bottom of this page.
Before enabling the plugin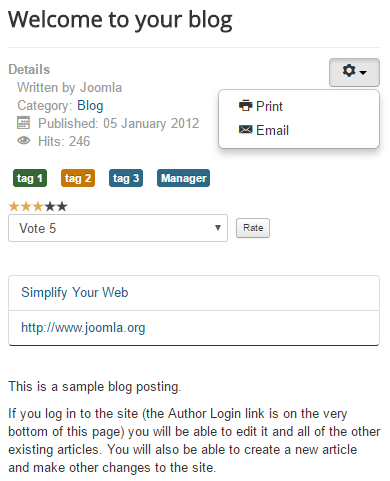 After the plugin has been enabled and configured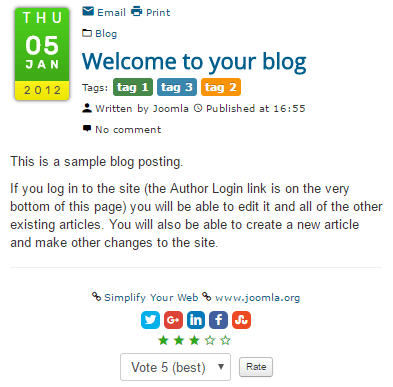 Joomla 3.1+
Version 4.2
Translations













Get involved and help translate this plugin!
Create an account at Transifex and join the OpenTranslators hub.
Find instructions here.
Features
choose which categories can be altered by the plugin,
use the plugin's syntax to individually target articles,
modify the article, blog/list and featured views,
choose which elements to show (hits, author, rating, dates, times, categories, keywords, tags, email, print, jcomments count...),
use the article options to control what information is shown,
use plain text to create elaborate combinations of elements,
link keywords for immediate search results,
show the vote form alongside the sharing type,
add an optional calendar representation,
use on a multi-language site,
override the CSS for display and print,
cache the stylesheets for better performance.
Parameters
Please download and check the documentation.
Demonstration site
Check the demo site for some live examples.
Article Details Profiles
Do you need distinct designs for differents portions of your site? Do you need to show information to users who have different access rights? Do you need support for custom fields? These are just a few of the features you will add to the free Article Details plugin by upgrading to Article Details Profiles.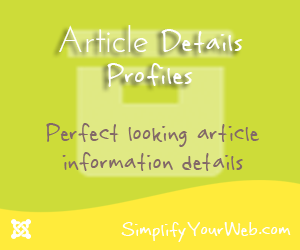 Discover Article Details Profiles
Comparison chart
Want to see what you may be missing from the commercial version? Check the comparison chart.
Joomla! Extensions Directory
If you have found this plugin useful to you, please post a review       at the Joomla! Extensions Directory.
Download free
Add support through PayPal

The following version is not supported under Joomla! v3.5 and over.
For support under Joomla! v3.5 and over, please download the latest version of Article Details v3.
Test the migration before going 'live'.