This extension is outdated. Download the full-blown component for additional options, unless you are looking for a version compatible with Joomla 2.5.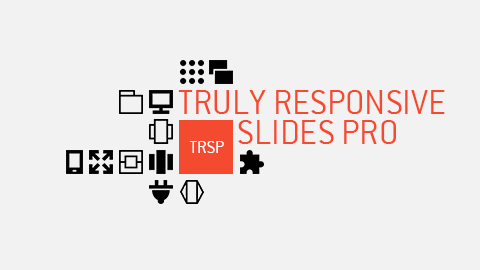 Truly Responsive Slides Pro for Joomla! (previously known as Truly Responsive Slider) is not your typical slider: it specifically targets websites that are responsive in design.
It not only resizes itself, using the full potential of the well-known jQuery-built Flexslider, but it handles different image sizes depending on devices viewports for faster page loading (using the ResponsiveImg jQuery plugin).
With Truly Responsive Slider, you can now create slideshows that are SEO-friendly and interactive since every slide's content is just plain html (and not an image containing text).
Downloads
Please make sure you read the following explanations before accessing the download links you can find at the bottom of this page.
Joomla 3.1+
Version 1.8
Translations







Features
any image, standard Joomla article or K2 item sets can be used as source for the slides,
source images are used to create the slide's background (including 

Joomla 3.7+

 custom fields of type media and K2 extra fields of type image),
source content is used as content for a slide, in any position,
create sliders from 4 different slider types (with or without thumbnails),
background images are optionally generated for mobile devices to speed up page load (breakpoints),
add slide transition options (speed, auto start...),
touch-enabled animations,

Hot

add tooltips to slides (in Bootstrap-ready templates),
comprehensive interface when familiar with slideshow software,
customizable navigation arrows,
adaptive content (captions can also show under the slides),
cached and minimized stylesheets and scripts.
Additional features
adaptability to screen sizes,
mobile-ready,
100% CSS-based layouts,
SEO-friendly,
support for IE8+.
Parameters
Please check the documentation for the version you are interested in.
Example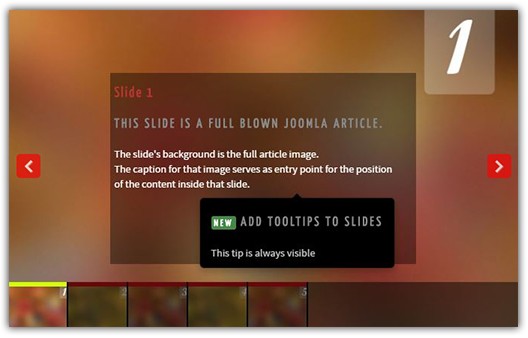 Demonstration site
Check the demo site for some live examples.
How does the pro version compare to the free version?
Try free
Try the module Truly Responsive Slides for free and get an idea of what the extension can do for you!
Joomla! Extensions Directory
If you have found this module useful to you, please post a review       at the Joomla! Extensions Directory.
Buy this extension through PayPal
PERSONAL
ONE YEAR
$14.95
1 production install
unlimited test installs
DEVELOPER
ONE YEAR
$34.95
unlimited production installs
unlimited test installs
PRO
BUNDLE
all extensions, unlimited
unlimited production installs
unlimited test installs
forum & email free & pro
You must be logged in, have a current and valid license to be able to download this extension.

The following version is not supported in Joomla! v3.5 and over.
For support in Joomla! v3.5 and over, please download the latest version of Truly Responsive Slides Pro v1.6.
Test the migration before going 'live'.