Required:

 Trombinoscope Extended v1.5
This example will demonstrate, step by step, how a contact card with a business-like look can be easily created with the module extension of the Trombinoscope Extended component.
We are assuming a contact has been created previously through the standard Joomla! Contact component.
Step 1: Go to Extensions -> Module Manager.
Step 2: Click on 'New'. Select 'Trombinoscope Extended'.
Step 3: Fill out the module's detail information.
Add the title 'Example',
Select the position of the template the module will fall into.
Step 4: Go to the basic options of the module.
Select the 'specific contact' option of the 'Selection from' parameter,
Select the contact you wish to show.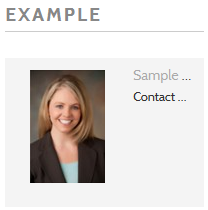 Step 5: Go to the 'Contact Information' tab to select the information you want to show on the card.
Add 'position' to field 1,
add 'empty' to field 2 (it will leave a space between fields),
add 'phone' to field 3 and select 'icon',
add 'formatted address (full)' to field 4 and select 'icon',
add 'email' to link field 1.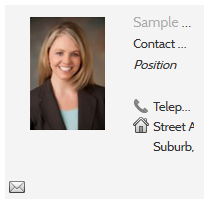 Step 6: Go to the 'Contact Picture' tab to make it look nicer.
Set 'Picture alignment' to 'top',
set 'Crop picture' to 'yes',
set 'Reset picture' to 'yes' (we will leave it to that setting until we are done modifying the card).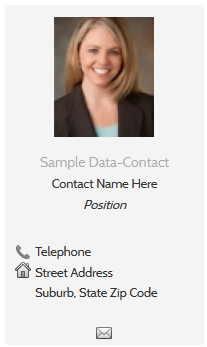 Step 7: Go to the 'Theming' tab. Select 'Theme 4' and the white icon pack (Theme 4 is available as a separate download).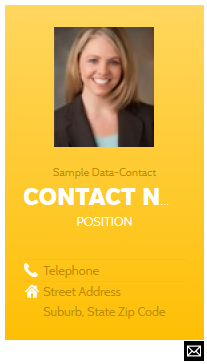 Step 8: Go back to the 'Contact Picture' tab.
Set the filter to 'grayscale',
Set the background color to white,
Set border width to 5,
Set the shadow to 'yes',
Go to the 'Contact Information' tab,
Set 'Force one line' to 'no' in the name format area.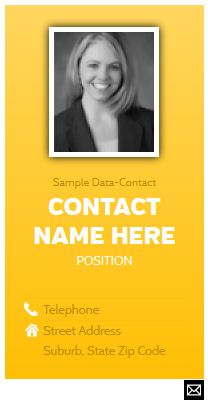 For more information, please download the component's documentation (where all CSS classes that make up a contact card are listed).