Pro 3.0
Show a list of contacts associated to a user in table-fashion. The user must be the creator of the contact or be linked to it.

Go to Menu -> [your menu] -> Add new menu item -> Select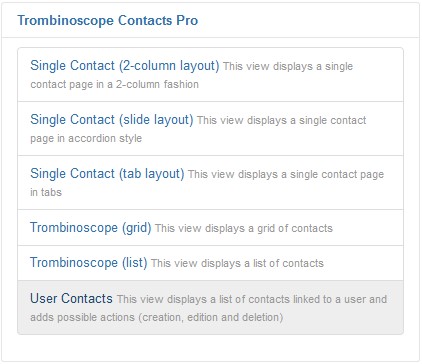 Choose the User Contacts view from the Trombinoscope Contacts Pro available view options to show the list of editable contacts.
Depending on it's privileges, a user is able to edit (edit own, edit linked permissions), remove (delete permission) and add contacts (create permission) from that view.
A User contacts view MUST exist if you plan to offer editing of contacts on the public side of your site
Parameters
New


Categories
Narrow the category selection to select a subset of contacts

New


Default category
The default category if different from the global configuration
The view creates a table of contacts associated with the logged user. When no user is logged in, the table shows all contacts without any action possible. It is preferable to hide this view from the general public.

From the table, you can access the contact forms in edition mode.
Note You need to select all fields that will show on the form in the global configuration Edit tab